General Information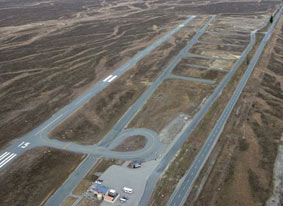 Pukaki Airport has a sealed runway - 1082 metres in length and 15.5 metres in width, maintained on a regular basis.
A full reseal took place in 2009, to ensure the seal standard matched the new internal parallel taxiway and lateral taxiways.
An automated Met Service weather station is located south of the Airport subdivision, giving real time wind speed and direction, temperature and pressure, cloud cover and visibility.
Airport Arrival and Departure Procedures
Runway and Taxiway Specifications - Met data
NZUK Pukaki Airfield 33/15 is a 1082m long sealed strip with a sealed width of 15.5 metres.
At the northern end runway 15 there is a 448m long grass strip extension 90 metres wide.
The threshold to runway 33 is displaced by 40 metres.
The strip elevation is 480 m MSL (1,575 ft)
Runway Location